COVID GAP Accountability Report
---
Press Release | may 11, 2022
Covid GAP Analysis Shows Mixed Progress with Opportunities for Improvement on Pandemic Response Targets

On the eve of the Second Global COVID-19 Summit co-hosted by the United States, Senegal, Germany, Indonesia, and Belize on May 12, 2022, COVID GAP issued today an assessment of the global response to the worldwide pandemic.

The First Global COVID-19 Summit in September 2021, convened by U.S. President Biden, produced multiple commitments as well as a list of targets and actions for global leaders in both the public and private sector. The table below tracks progress toward several of those targets.
First Global Summit Targets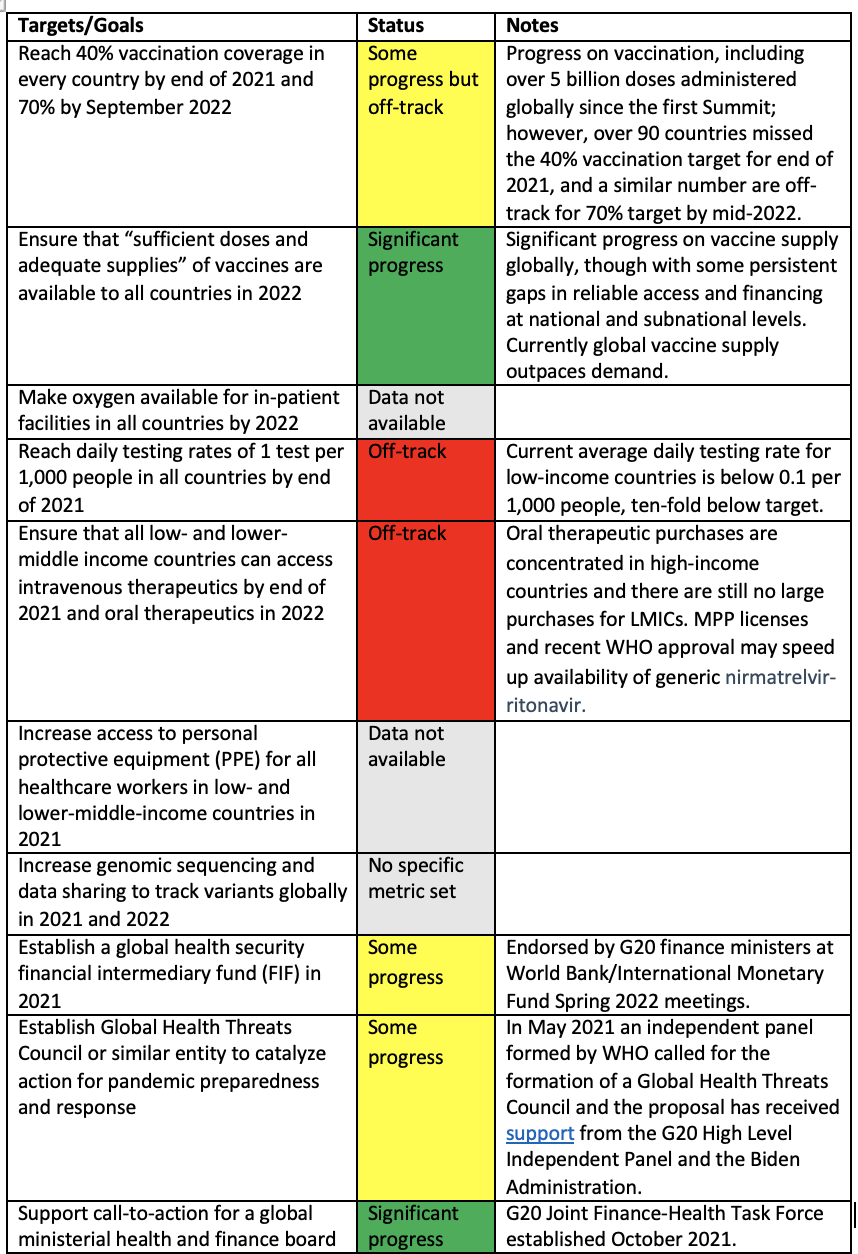 Ahead of the second Summit, organizers have set a number of commitment goals for countries and donors around the world, including fundraising targets for vaccines as well as therapeutics (including oxygen) –$10 billion and $3 billion, respectively.
 

The ACT-Accelerator, the major global multi-lateral initiative coordinating pandemic response, has requested $16.8 billion in grant funding to support activities through September 2022. Halfway through its budget year, ACT-A has raised less than $3 billion, a fraction of the funding needed to implement its strategy. "Given the persistent financing challenges for almost all aspects of global COVID-19 response, the Summit will be a true test of the current resolve of countries and organizations to take action in the ongoing fight against COVID-19 globally and prepare systems for future pandemics," said Gary Edson, president of COVID Collaborative and co-lead of COVID GAP.
 

In addition to global financing, the COVID GAP accountability report tracks:
vaccination coverage targets versus current coverage (including sub-populations)
access and availability to testing, oral therapeutics and oxygen in low- and middle-income countries
pandemic preparedness and health system resilience
In its recent report, The Path Forward, COVID GAP calls for a rapid shift in strategy—from crisis response to sustainable control—to empower a more effective and equitable approach. The strategy includes support for country-driven goals that reflect local realities and priorities; immediately prioritizing fully vaccinating (including boosters) high-risk populations and health and other essential workers, with recognition of global goal of 70 percent primary vaccination coverage; providing equitable access to oral antivirals through test-and-treat capabilities; and increasing manufacturing capabilities and production in low- and middle-income countries.
 

"COVID GAP is committed to tracking the global COVID response and holding leaders accountable," said Andrea Taylor, lead author and assistant director of programs for the Duke Global Health Innovation Center. "Through COVID GAP Accountability Reports, we will highlight and analyze recent developments, track progress toward national, regional, and global targets, and identify high-priority recommendations for a more effective, efficient, and equitable pandemic response and preparedness."
APRIL 28, 2022 | PRESS RELEASE
Global Consortium of Leading Health Organizations Urges Shifts forSustainable Post-Omicron COVID-19 Strategy
Prioritize country-led efforts to vaccinate the most vulnerable, build resilient health systems
---
Eleven leading health organizations from around the world released a joint declaration today highlighting urgent, actionable priorities to update the post-Omicron COVID-19 strategy for a more equitable and effective global pandemic response. These recommendations set clear expectations for global leaders coming together on May 12 for the Second Global COVID-19 Summit.
COVID GAP and Pandemic Action Network co-hosted a joint virtual convening, Global Call to Action: End the COVID-19 Crisis and Prevent the Next Pandemic, on March 29 along with Africa CDC; African Population and Health Research Center; Amref Health Africa; Andean Health Organization; Center for Indonesia's Strategic Development Initiatives; College of Medicine, University of Ibadan; School of Public Health, Cayetano Heredia University; ONE Campaign; and WACI Health. The convening and report were supported by The Rockefeller Foundation and the Bill & Melinda Gates Foundation.
The joint report, Seizing the Moment: Global Action to End the COVID-19 Crisis and Prevent the Next Pandemic, synthesizes the perspectives of diverse speakers — who were joined by over 400 participants from around the world — to identify top priorities to meet global needs at this stage of the pandemic and to build stronger, more resilient, and equitable systems for the future.
"The post-Omicron global strategy must evolve, and requires global solidarity, coordination, and commitment to address short- and long-term imperatives," the report notes. "We can and must shift from an emergency crisis response to a strategy of sustainable pandemic control that strengthens resilient health systems and future preparedness."
The report calls for four specific high-priority actions:
1. Accelerate equitable access to and acceptance of vaccines, diagnostics, and therapeutics.
The next phase of COVID-19 response requires accelerating vaccination — translating growing vaccine supply into shots in arms. Efforts must immediately prioritize fully vaccinating (including boosters) the most vulnerable and high-risk populations, including the elderly and health and other essential workers, to save the most lives, most quickly, as part of efforts to expand vaccination coverage. To complement vaccination, leaders must ensure equitable access to oral antivirals and diagnostics and prioritize the expansion of test-and-treat capabilities, particularly in low- and middle-income countries.
2. Support country-led and community-driven goals and priorities, with global support strengthening national and regional systems and advancing equity.
Global systems and coordination remain important, but global efforts should support national and regional goals and priorities, applying lessons from the past two years. Putting more power, authority, and design in the hands of communities will empower a more effective and equitable response — for COVID-19 and future health emergencies.
3. Build and invest now to pandemic proof the future for everyone, everywhere.
Global leaders must continue to fight the current threat while simultaneously investing in systems and structures to be prepared for the next global health emergency. This will require urgently mobilizing new and diversified funding. The world also needs stronger, more robust and equitable health systems everywhere to respond to health security crises and other population health needs.
4. Drive accountability at all levels and commit to global solidarity.
Leaders must be accountable for taking action — at all levels. But to drive accountability, governments and health institutions must disclose easy-to-access data and information, so the public can understand what is happening and follow up when leaders are falling behind.
The report further notes, "Above all, we must start thinking of the world as one. The COVID-19 pandemic continues to make clear that the health, well-being, and livelihoods of people around the world are interlinked."
This consortium of global organizations will continue to collaborate to increase accountability for action and progress from key public and private stakeholders around the world.